German Shepherds
Welcome to Weidenstrasse Zwinger
Weidenstrasse Zwinger has been serving the global community of German Shepherd Dog lovers since 1996.
We offer a professional, friendly, quality service based on 19 years of breeding top class dogs.
Zwinger von der Weidenstrasse is affiliated to the German Shepherd Dog Federation of South Africa and holds its highest breeder award, the prestigious Double Diamond Breeder Medal. This award is conferred on kennels who have demonstrated a consistent ability to breed dogs of the very highest caliber in both breed and trial competition and qualification events.
.
IMPORTANT BREEDING PRINCIPLES  (power point presentation) 
*Dexton von der Weidenstrasse
A+, AD, BH, IPO 3, Angekoert 2017-2018, V(NBS)
Owner: Mr Hennie Kotze
I am a very proud breeder of Dexton who has just achieved the
highest working qualification IPO 3 (Internationale Pruefungsordnung – level 3)
on Saturday, 17.3.2018. This is a tremendous achievement.
Congratulations to Hennie, Owner and Handler of Dexton.

Long Stock Hair Sieger – National Breed Show 2016 and 2017
*Jabari von der Weidenstrasse, VA(SA),
Sire: *Quentin von der Baiertalerstrasse, VA(SA)
Dam: Dixie von der Weidenstrasse, V
With his Team:
Nadine Bauer, his handler from Germany (front row)
Maren von der Heyde, Breeder (from left to right)
Charlie Baloyi (ring craft trainer and handler)  Marguerite Davis (owner)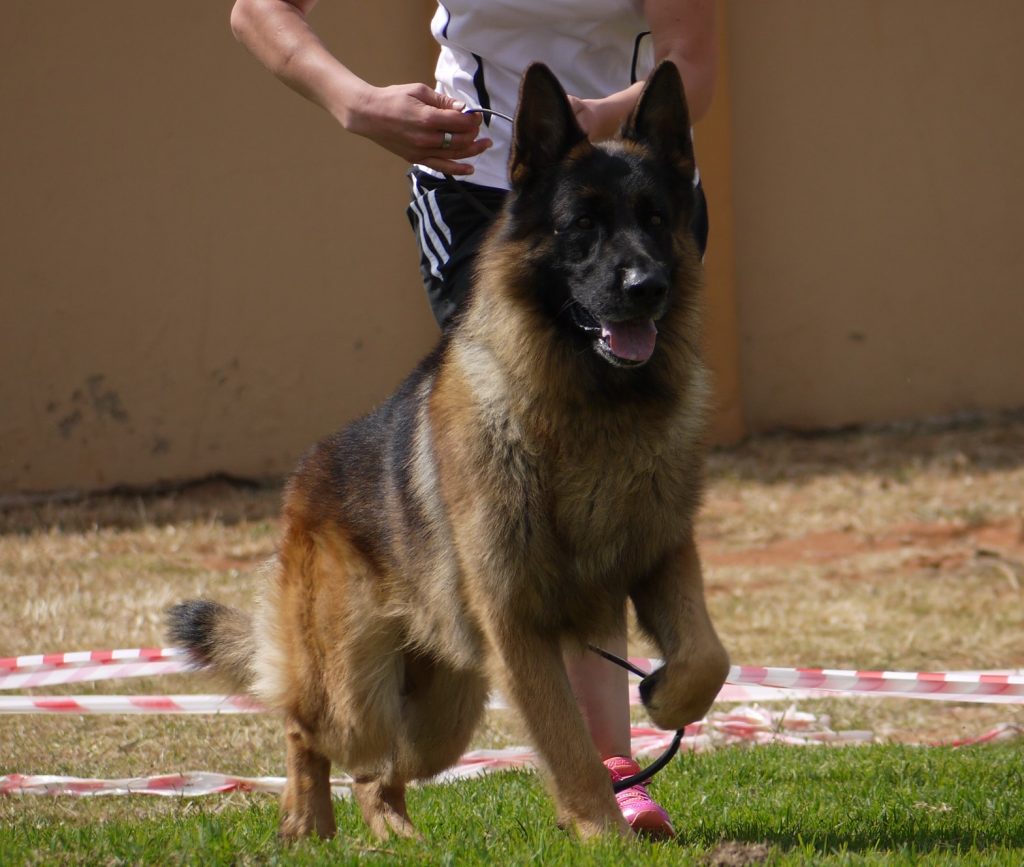 *Wasim von der Weidenstrasse, V
Sire: *Paul vom Bierstadter Hof, VA
Dam: *Fanda von der Weidenstrasse, V(NS)
Wasim's offsprings having been shown at the National Breed Show 2016 and did very well.
Class Winner NBS 2016
Avicii of Sharyleigh
Class Winner Cape Town Show
Alejandro of Sharyleigh
Class Winner Momenta Show
Aztek of Cadeau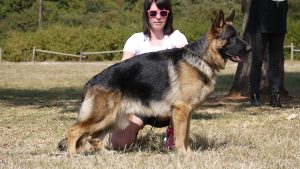 Vice Youth Sieger NBS 2016
Pancho von der Weidenstrasse
Class Winner Magalies Show
Lasca von der Weidenstrasse
Lumia von der Weidenstrasse
Azure of Cadeau

Wasim von der Weidenstrasse's offsprings


.
.
.
.
.
Recently Sold Pups To African Countries
 Yamin and Zoro on their outing!
.
.
Read about Harto von der Weidenstrasse and his amazing journey to become Universalsieger 2008
Harto von der Weidenstrasse was the second dog having achieved this prestigious title since the beginning of the German Shepherd Dog Federation of South Africa .
See and read about the quality of German shepherds here

At Weidenstrasse Zwinger, our goal is to provide you with courteous, expedient, professional service of the highest caliber.
Browse our web site for more information about us. If you have any questions or would like to speak with a Weidenstrasse representative regarding our dogs, please email us at info@weidenstrasse.com or call us at +27(82) 489 5699