*Wasim
Von der Weidenstrasse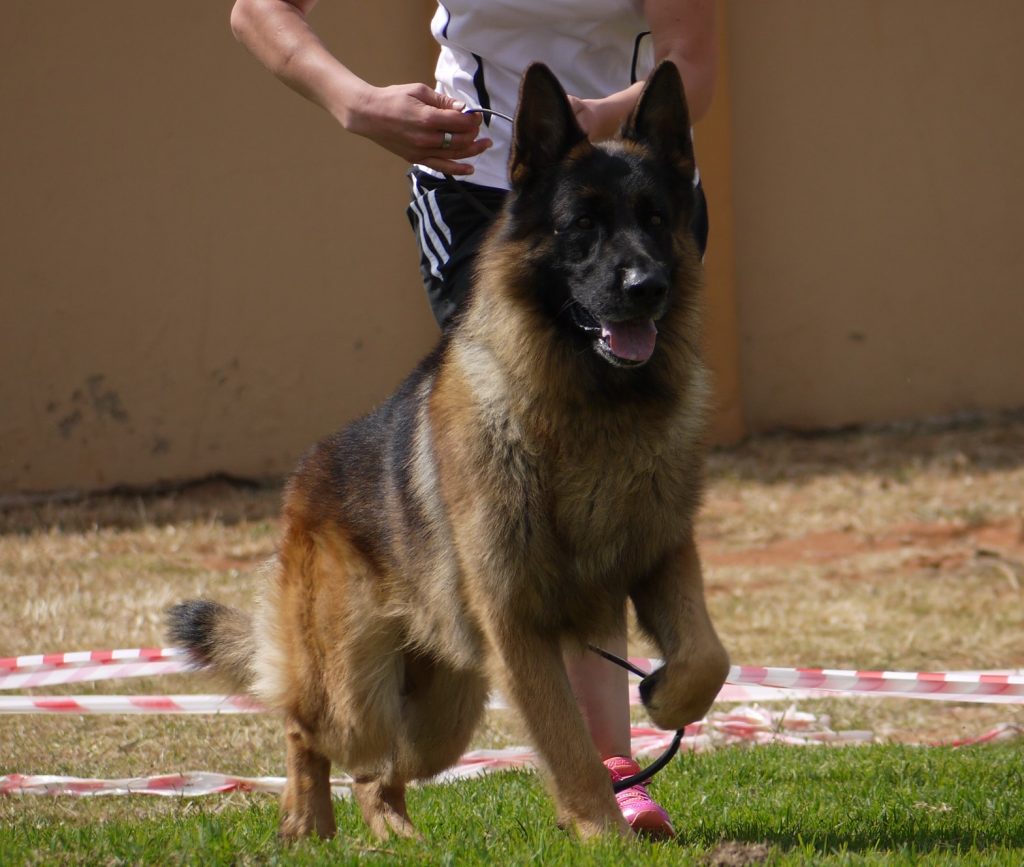 Youth Sieger – National Breed Show 2014
Date of Birth: 13.08.2012,
Tattoo Number: FM2520
Hip Grading: A+
Breed Grading:  V (excellent)
Angekoert 2017-2018
Working qualifications: AD, BH
Sire: *Paul vom Bierstadter Hof, Normal, Koerkl. 1 (for Life), BH, AD, VA, IPO3
Dam: *Fanda von der Weidenstrasse, A+, Koerkl. 1 (for Life), AD, BH, V (NBS)
Breed Survey
Judge: Rudi Zimmermann
Description of General Appearance:
A very large, powerful, expressive male with a powerful, masculine head. High wither, straight back. The croup is of very good length and lay. Absolutely correct in front. Good forehand- and very good hind angulations. Good chest development and balance chest proportions.
Correct length of underchest. Slightly narrow going, correct coming. Powerful hind thrust with good forward reach and a balanced side gait.
Drive, self-assurance and stress tolerance (TSB) pronounced; dog releases.
Particular virtues and faults:
Very good overall body proportions. Very good pigmentation, dark eyes, Exudes masculinity.
Breeding Recommendations:
Consider size when choosing a breeding partner. Recommended for the correction of overall body proportions and improvement of the croup.
Judges Critique (Mr R Meyer) National Breed Show 2013
 Large, powerful, susbstantial, masculine, very good head, well pigmented, markedly stretched. High wither, straight, firm back, good length and lay of the croup, very good angulations. Balanced chest proportions. Correct in front, correct coming, narrow going. Very good movement.
Winner Class 4 Mon Ami GSD Breed Show 2013